Receiving Help from the "Other Side"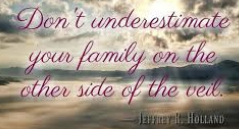 Return to Main Margie's Messages Home Page (Full List of Topics)
---
Whoever Seeks to Help Those on the Other Side...
---
Elder Widtsoe said, "I have the feeling . . .that those who give themselves with all their might and main to this work receive help from the other side, and not merely in gathering genealogies.  Whoever seeks to help those on the other side receives help in return in all the affairs of life."
I testify that this is true. 
(Elder Theodore Tuttle, April 1980 Gen. Conf.)
---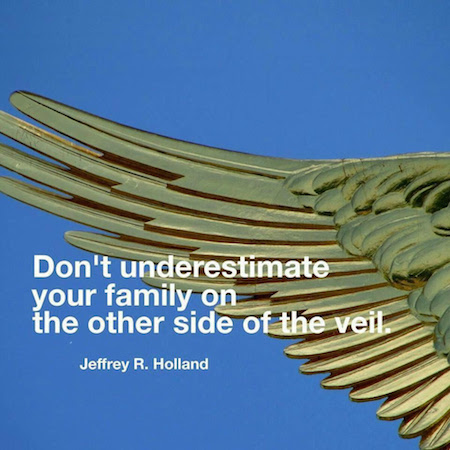 ---
Spencer W. Kimball:
"...My grandfather, being one of a family, searched all his life to get together his genealogical records; and when he died, in 1868, he had been unsuccessful in establishing his line back more than the second generation beyond him. I am sure that most of my family members feel the same as I do—that there was a thin veil between him and the earth, after he had gone to the other side, and that which he was unable to do as a mortal he perhaps was able to do after he had gone into eternity. After he passed away, the spirit of research took hold of men—his family in the West and two distant relatives, not members of the Church, in the East. For seven years these two men—Morrison and Sharples —unknown to each other, and unknown to the members of the family in the West, were gathering genealogy. After seven years, they happened to meet and then for three years they worked together. The family feels definitely that the spirit of Elijah was at work on the other side and that our grandfather had been able to inspire men on this side to search out these records; and as a result, two large volumes are in our possession with about seventeen thousand names."
The Teachings of Spencer W. Kimball, p. 543
---
"The seen and the unseen worlds are closely connected. One assists the other. Those who fail to partake of the privileges and blessings of temple work deprive themselves of some of the choicest gifts within the keeping of the Church. Temple work begins with genealogy."
John A. Widtsoe (quoted by Boyd K. Packer in his book: The Holy Temple)
---
"Why is it that sometimes only one of a city or household receives the gospel? It was made known to me that it is because of the righteous dead who had received the gospel in the spirit world exercising themselves, and in answer to their prayers elders of the Church were sent to the homes of their posterity that the gospel might be taught to them, and through their righteousness they might be privileged to have a descendant in the flesh do the work for their dead kindred. I want to say to you that it is with greater intensity that the hearts of the fathers and mothers in the spirit world are turned to their children than that our hearts are turned to them."
Elder Melvin J. Ballard Sermons and Missionary Services of Melvin Joseph Ballard, p. 249
---
"The spirit and influence of your dead will guide those who are interested in finding those records. If there is anywhere on the earth anything concerning them, you will find it."
Elder Melvin J. Ballard Sermons and Missionary Services of Melvin Joseph Ballard, p. 230
---
"This is a spiritual work, a monumental effort of cooperation on both sides of the veil where help is given in both directions. It begins with love. Anywhere you are in the world, with prayer, faith, determination, diligence, and some sacrifice, you can make a powerful contribution. Begin now. I promise you that the Lord will help you find a way. And it will make you feel wonderful."
Richard G. Scott, Nov. 1990 Ensign, "Redemption, the Harvest of Love"
---
"I promise you that all who faithfully attend to temple work will be blessed beyond measure. Your families will draw closer to the Lord, unseen angels will watch over your loved ones when Satanic forces tempt them, the veil will be thin and great spiritual experiences will distill upon this people."
Vaughn J. Featherstone, Mount Vernon Washington Stake Conference Quoted in "Temples in the Last Days" by Royden G. Derrick, p. 103
---
"It is a veil, not a wall, that separates us from the spirit world...Veils can become thin, even parted. We are not left to do this work alone. They who have preceded us in this work and our forebears there, on occasion, are very close to us. I have a testimony of this work; it is a supernal work in the Church. I am a witness that those who go beyond the veil yet live and minister here, to the end that this work might be completed."
Elder Boyd K. Packer "Covenants," Ensign, May 1987, 22
---
"When you think that you are chosen to be saviors to the children of men, to stand as a medium through whom salvation shall flow unto unnumbered thousands, what manner of people ought we to be?
They pray for you today in the spirit world, as they have been no doubt from the beginning praying for their descendants, that they may be faithful to the truth."
George Q. Cannon
Journal of Discourses
---