Robert's Miracle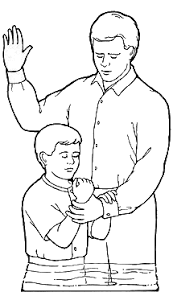 Return to Main Margie's Messages Home Page (Full List of Topics)
---
Heavenly Help
---
I revere the priesthood of Almighty God. I have witnessed its power. I have seen its strength. I have marveled at the miracles it has wrought.
Fifty years ago, I knew a young man—even a priest—who held the authority of the Aaronic Priesthood. As the bishop, I was his quorum president. Robert stuttered and stammered, void of control. Self-conscious, shy, fearful of himself and all others, this impediment was devastating to him. Never did he fulfill an assignment; never would he look another in the eye; always he would gaze downward. Then one day, through a set of unusual circumstances, he accepted an assignment to perform the priestly responsibility to baptize another.
I sat next to Robert in the baptistery of the Salt Lake Tabernacle. He was dressed in immaculate white, prepared for the ordinance he was to perform. I leaned over and asked him how he felt. He gazed at the floor and stuttered almost uncontrollably that he felt terrible, terrible.
We both prayed fervently that he would be made equal to his task. Suddenly the clerk said, "Nancy Ann McArthur will now be baptized by Robert Williams, a priest."
Robert left my side, stepped into the font, took little Nancy by the hand and helped her into that water which cleanses human lives and provides a spiritual rebirth.
He spoke the words, "Nancy Ann McArthur, having been commissioned of Jesus Christ, I baptize you in the name of the Father, and of the Son, and of the Holy Ghost. Amen."
Not once did he stutter! Not once did he falter! A modern miracle had been witnessed. Robert then performed the baptismal ordinance for two or three other children in the same fashion.
In the dressing room, as I congratulated Robert, I expected to hear this same uninterrupted flow of speech. I was wrong. He gazed downward and stammered his reply of gratitude.
To each of you brethren this evening, I testify that when Robert acted in the authority of the Aaronic Priesthood, he spoke with power, with conviction, and with heavenly help.
President Thomas S. Monson, Priesthood Session, October 2000
---