The Mission Within a Mission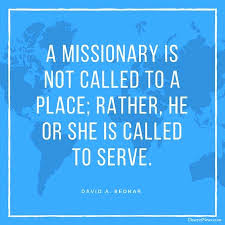 Return to Main Margie's Messages Home Page (Full List of Topics)
---
Elder Geertsen
---
A long time ago before we were born,
We chose to follow Christ
To come down to earth to learn, and to grow,
And hopefully do what is right.
One by one we accepted our calls,
And left all our memories behind.
Did we have a farewell, an open house?
Was it hard to say our goodbyes?
Some of us were born with the truth,
Being taught from the very start.
But some were not as fortunate,
With situations often hard.
Our Brothers and Sisters struggling with life,
And their knowledge of Christ quite dim,
It is now our duty to seek them out,
To teach them all about Him.
So now we begin the process again,
As we make the decision to go,
Called by a living Prophet himself,
And our excitement begins to grow.
So one more farewell and open house,
With Jell-O of carrots and lime.
Our friends and family gather again,
To say goodbye one more time.
The Mission within our mission is clear,
To introduce others to Christ.
To help them to learn, and help them to grow,
And progress towards eternal life.
---