Singles Quotes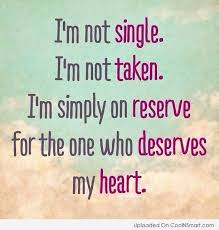 Return to Main Margie's Messages Home Page (Full List of Topics)
---
Quotes About Single Sisters
---
"For some of us, the test in the schoolroom of mortality will be to want marriage and children in this life with all our hearts, but to have it delayed or denied.  Even such a sorrow can be turned to a blessing by a just and loving Father and his Son, Jesus Christ.  No one who strives with full faith and heart for the blessings of eternal life will be denied.  And how great will be the joy and how much deeper the appreciation then after enduring in patience and faith now."
Henry B. Eyring,  BYU Fireside,  Nov. 5, 1995
---
"Many of the sisters grieve because they are not blessed with offspring.  You will see the time when you will have millions of children around you. If you are faithful to your covenants, you will be mothers of nations."
President Brigham Young  (L.D.S. Historical Calendar - 1999)
---
"When fretted by this single life, which seems to be my lot, I think of all the many men whose wife I'm glad I'm not."
Quoted by President James E. Faust, General Women's Conference, October 25, 1999
---
"None of his faithful children will miss out on the opportunity for eternal marriage with one who is equally prepared for eternal life."
Marlin K. Jensen  "A Union of Love and Understanding,"  Ensign, Oct. 1994, p. 49
---
Elder Boyd K. Packer said to the single members of the Church, "We talk a lot about families.  Sometimes in bitterness, you will want to say 'all this talk about families, but I don't have a family, and … ,' stop there!  Don't add that extra phrase, 'I wish they would stop talking so much about families.' You pray that we do keep talking about families; about fathers and mothers and children and family home evening, temple marriage and companionship and all of the rest, because all of that will be yours.  If we stop talking about it, then you, among all others, will be the losers."
Melchizedek Priesthood MIA Conference, June 1973
---