Between Two Worlds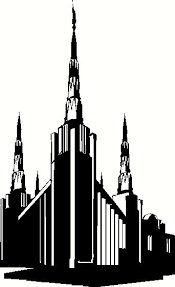 Return to Main Margie's Messages Home Page (Full List of Topics)
---
Janine L. Parlette
---
Arising early, I'm eager for the work I'll be about today.
As I make my way in the early morning hours,
The cares of the "everyday" world push rudely into my
sleepy ponderings of that "other" world where I'll soon be.
I see it now, there it is -
The Temple, The House of the Lord;
I'm going there today.
Suddenly, cares and concerns of the "everyday" world
begin to slip away as if only a dream;
Another world begins to take its place in heart and mind.
As I enter the double doors, Holiness To The Lord,
the transition becomes complete -
I feel whole, safe and protected.
My work today, to assist you as you worship
In this Holy House of The Lord, is work I cherish.
To greet you with a smiling face and kind, gentle words
Is my privilege.
My joy, to guide the ambiance of this "other" world into your heart,
That you become a better person and help
Make a better "everyday" world and return to worship
again and again.
This world I am reluctant to leave,
But the work today is finished, though not without
Lives being touched by Eternity.
As I leave this world and return to the "everyday" world,
A weariness sets in.
No, it's not rising so early or working so hard,
Being on my feet or being hungry
That is the source of my weariness;
What then could it be?
The Spirit whispers to me —
The transition between two worlds.
---